Axsmar offers most of the products in a great variety of sizes for the best individual fit. To be able to manufacture the single pieces to measure we need to know your individual size.

Hints: If you are in doubt, take the smaller one!
1 inch = 2.54 cm = 25.4 mm

We are now also offering advice via video conference! Please make an appointment via mail or call Nicole Schwabenthal +49 -176-56987780
Series Talena

Neck
Since it is a very personal matter how the Talena is worn, we can only give very general advice. Our tip: Measure the neck circumference at the narrowest point with a flexible measuring tape (close, but not tight) as in picture 1. Now add 2 cm, if you end up between 2 whole numbers, please round off. In our example we measured 34.5 cm and would come to size 36 (picture 2). However, if you want to wear the choker loosely, you can also take the next size - here 37 cm (picture 3).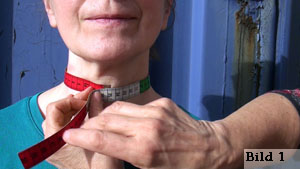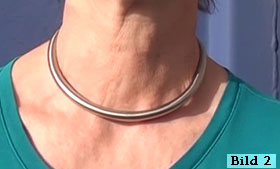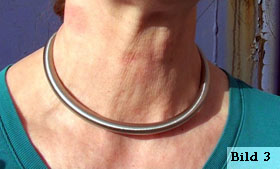 There is also a video tutorial on youtube (unfortunately only in german) Messanleitung Talena

Bracelet
Put the measuring tape tightly round your wrist and round up the value to the next whole 5mm size. If you like it without space, take the next smaller size.

Anklet
Measure your ankle the same way as your wrist. As the anatomy of your ankle is different from your wrist's, the anklets have a more elliptical shape. For a better fit we need the approximate width of your ankle, measured above the knuckle, where the circlet will be worn. Customers reported, the most comfortable fit is, when the anklet is narrow above the knuckles widthwise and has a little space in the front and the back to move back and forth.